Water Slide Rentals Lafayette LA
13 ft lil splash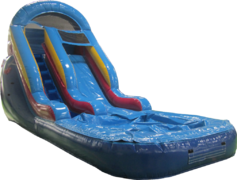 13ft Lil Surf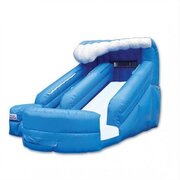 16ft tiki plunge water slide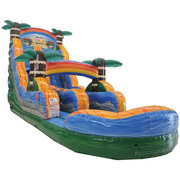 5n1 Dolphin Combo Blue DL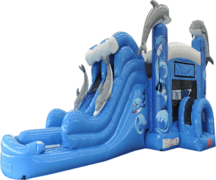 Wet dry retro obstacle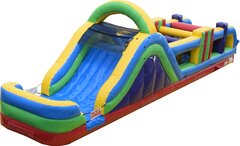 Retro Dual lane castle combo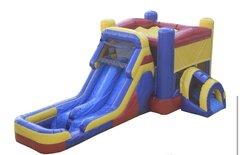 Pink Double Lane Combo Wet/Dry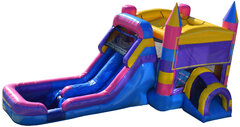 15ft Blue Crush Water Slide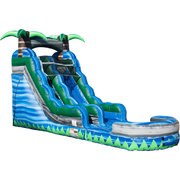 15ft Purple Crush Water Slide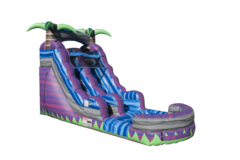 15ft Blue Wave Runner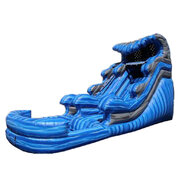 18ft Purple Crush Water Slide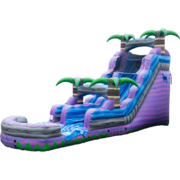 18ft Purple Hurricane Water slide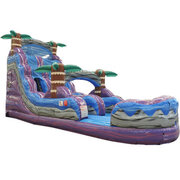 18ft Tiki Plunge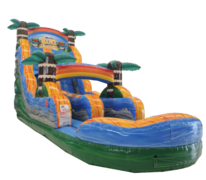 18ft Tiki Plunge Dual lane Slide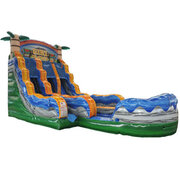 18ft Tropical Thunder Dual Lane Water Slide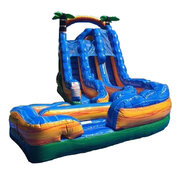 Wild splash slip and slide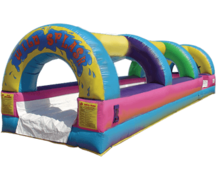 20ft Wild Thing Water Slide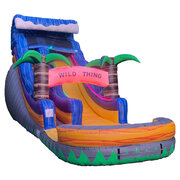 20ft Boulder Crush Tsunami Water Slide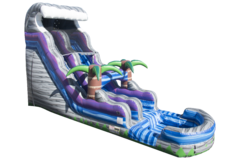 22ft tiki plunge dual lane with inflated pool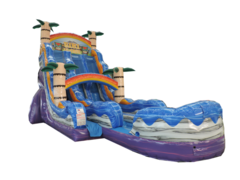 22ft Caustic Drop Water Slide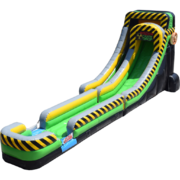 27' Tiki Plunge Water Slide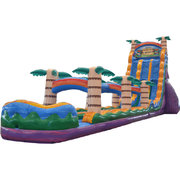 32ft Fiesta Slip and Slide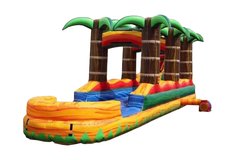 4n1 Module combo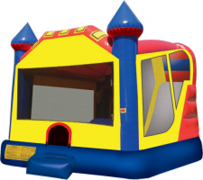 Maui Combo Bounce House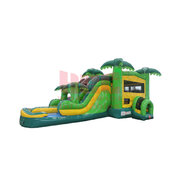 Tropical Wave Water Slide Combo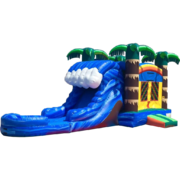 19 Tiki island xl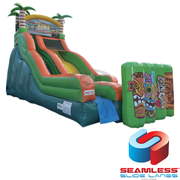 Mermaid combo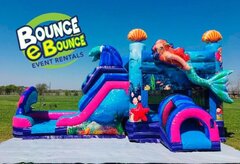 Mickey Mouse jr slide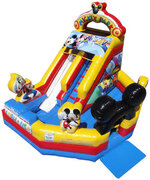 90ft Toxic Obstacle Course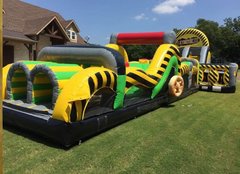 Zombie apocalypse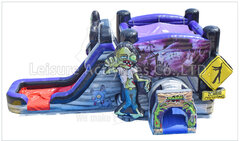 Toxic Dual Lane Obstacle Course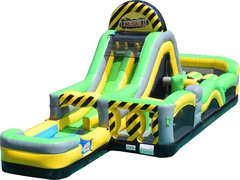 5n1 fun jump combo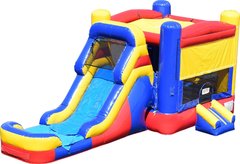 Keep your guests cool and comfortable at your next hot weather event with the best water slide rentals Lafayette LA, only from Bounce E Bounce. Transform your event space into a mini water park with a water slide! Bounce E Bounce has the largest selection of water slide rentals Lafayette LA has ever seen. Whether you are hosting a birthday party, school function, or corporate event, we have the perfect water slide for you
Bounce E Bounce is proudly a locally owned and operated water slide rental company right here in Lafayette, Louisiana. We pride ourselves on providing superior customer service and high-quality waterslide rentals to all of Lafayette and the surrounding areas in Acadiana. If you want to make a splash at your next event, check out the coolest assortment of giant water slide rentals in Lafayette LA today! Browse around our selection and click on the image to book your water slide rentals online right now!
Best Selection of Water Slides in Lafayette LA
Bounce E Bounce has the best selection of water slides in Lafayette LA for some FUN in the sun! if you are hosting an outdoor event in the hot Louisiana summer, you need a water slide to keep your guests cool and comfortable. No one wants to stand around sweating in the heat. Make sure your partygoers are having fun and staying cool for the duration of your event with one of our water slides Lafayette LA customers love.
Your guests will be impressed when they arrive at your event and see a giant water slide towering over your event space. They won't be able to kick off their shoes fast enough! Whether you choose a traditional water slide or a fun jump water slide with the ability to have a little bouncing fun also, we have the perfect water slide to treat your guests at your next event.
With sizes ranging from 13 ft all the way up to 32 ft tall, Bounce E Bounce is your Lafayette water slide rental headquarters! Over the years, we have listened to our customers when it comes to our water slide options. We have some of the biggest, baddest water slides in all of Lafayette. Who knew these things would be so cool?
Water Slides Lafayette LA Provide Safe Fun in the Sun
When the weather gets hot in Acadiana, it's time to break out the water slides Lafayette LA! A giant inflatable water slide is the perfect way to stay cool and refreshed when the sun is relentless. Our inflatable water slides are a safe way to provide some good ole fashioned entertainment for guests of all ages. No one can resist a trip down the Lafayette water slides!
Our water slide rentals are all meticulously cleaned between rentals, so you can rest assured that you are getting a clean and sanitized inflatable. Your safety is out priority, so we work hard to make sure our rentals are clean and safe. All of our inflatables are made with commercial grade lead free vinyl and purchased from only the most reputable of manufacturers.
Why Choose Bounce E Bounce for a Waterslide
For years, we have been providing some good clean fun all over the area with our amazing selection for a Lafayette water slide rental. If you are planning an event outdoors this summer or during the warmer months which is pretty much all the time in South Louisiana, then you most definitely need a Lafayette water slide rental. See why everyone chooses Bounce E Bounce! We stand behind our reputation and you will see why we are the most sought out water slide rental company in Lafayette, Louisiana.
Sizes to Fit Any Event
Bounce E Bounce, LLC offers the largest selection of inflatable water slides in Lafayette. No matter what size of type of event you are hosting, we have the perfect water slide for you. If you are hosting an event with limited space, you'll want to check out our 18ft Ruby Red Crush Water Slide, perfect for backyards. This slide can accommodate 2-3 partygoers at once and your guests will be racing to get back in line to go again!
Have more space? Check out our giant 34 ft double lane water slide. This monster slide is guaranteed to impress and be a major hit at your party. The double lanes are sure to incite some good old fashioned competition between partygoers. No matter what size or style water slide you need, Bounce E Bounce has got you covered.
Lots of Water Slide Themes to Choose From
Bounce E Bounce offers many water slide themes to choose from. Why get stuck renting a boring water slide when you can choose from our large variety?
So, whether you're hosting a tropical themed event or a themed party, we have the perfect water slide to suit it! We offer a variety of themes to satisfy even the pickiest event host. Choose from tons of themes with our modular water slide options!
Affordable Pricing
We price our water slide rentals in Lafayette so that they will fit into any budget. We know that event planning can get expensive quickly. Don't cut your entertainment budget because you think you don't have the funds-try renting a water slide from Bounce E Bounce!
Inflatables are one of the most cost effective forms of party entertainment available. Not only will you save money, your guests will have a blast too!
No Hassle Online Ordering
Our easy to use website makes booking your water slide Lafayette a breeze! We offer real time availability and scheduling. Booking your Lafayette water slide rental is easy; visit our website, enter your event date, choose your water slide, add to cart, and checkout-it's that easy.
Have questions before you book? No problem! Our friendly and knowledgeable staff is available to help you with all your booking needs. We can even help recommend the perfect water slide for your event.
Delivery and Set Up Included
The price listed on our website includes set up and delivery of your water slide in Lafayette! We deliver to Lafayette and the surrounding areas all over Acadiana. Delivery fees may apply depending on your area.
Bounce E Bounce, LLC delivers your water slide rental at least a few hours prior to the start of your event to ensure that it is set up and functioning properly prior to your guest's arrival. No need to stress about event entertainment on the day of your party, let Bounce E Bounce take care of it for you!
Top Notch Customer Service
At Bounce E Bounce, LLC we pride ourselves on making superior customer service our number one priority. In fact, our dedication to customer service gives us an edge over our competition.
We are a locally owned and operated water slide rental company based right here in Lafayette. You can rest assured that when you contact Bounce E Bounce, you are being connected with a live representative right here in Lafayette, LA. We go above and beyond for our customers to make sure that your party goes off without a hitch.
What Are You Waiting For?
If you are thinking of renting a water slide for your next Lafayette event, contact the professionals at Bounce E Bounce today! We can't wait to take your next summer event from hot and sweaty to wet and wild!
Hosting an event in cooler weather? Check out our large selection of dry slides! Our dry slides have all the fun of a water slide, without the water. Perfect for when the weather is cooler! Even some of our Lafayette Fun Jumps have slides attached making them the perfect combo inflatable for your party.
Delivering All Over the Lafayette Area
We set up water slides at various locations all around the Lafayette area. The majority of our customers have their rentals at their homes but often we do rentals at parks or playgrounds in Lafayette. Visit the City of Lafayette page for more information on having a party at their location. Be aware of any setup restrictions prior to booking your inflatable party rental with us. A majority of the parks require the rental of a generator to power the inflatable since they don't provide any power sources for inflatables. In addition, we have all the required minimum insurance requirements since we are licensed and fully insured. Here are some of the parks we deliver to on a normal basis:


Acadiana Park


Arceneaux Park


Beaullieu Park


Beaver Park


Broadmoor Park


Carencro Park


Chargois Park


City Park


Dalton Leblanc Park


Debaillon Park


Derby Playground


Dorsey-Donlon Park


Duson Park


Foster Memorial Park


Girard Park


Graham Brown Memorial Park


Heymann Park


IR Chalmers Park


J Otto Broussard Memorial Park


JW James Playground


Judice Park


Lil Woods Playground


Maurice Heymann Memorial Park


Moore Park


Mouton Playground


Neyland Park


Erstate Landry Playground


Pa Davis Park


Parc de Lafayette


Picard Park


Plantation Park


Scott Park


Anthony Playground


Thomas Park


Veteran's Park


Moncus Park


Parc International


Parc Sans Souci


Parc Putnam


Not only do we cater to the parks but also many businesses, schools and churches around Lafayette, LA. A lot of schools love our water slides rentals for their summer field days and water days. Many of them in the Lafayette Parish School System choose Bounce E Bounce because they know they can count on us to be on time, every time. Even a few of the Lafayette Parish Private Schools have used us for their field days. The University of Louisiana at Lafayette loves our giant water slide rentals Lafayette LA has to offer. The Louisiana Ragin' Cajuns college kids rent our 32' tall water slides for the time of their lives. In the past we even had some events at some of the popular sports venues like Blackham Coliseum, Cajundome, Cajun Field, Earl K. Long Gymnasium, Evangeline Downs and Planet Ice Skating and Hockey Arena.
Water Slides for Rent Any Size Event
At Bounce E Bounce, we cater to any size event. We have water slides for rent in Lafayette LA that creates a water park right at your event location. Not too long ago, we did a large event at the Lafayette Cajundome. We provided a variety of fun jumps, water slides and interactive games for the kids to enjoy. Even the adults had a great time with our dunking booth while the kids played in the obstacle course. Let us bring the fun to your event!
There are plenty of places to host your next event in the Lafayette area. We have delivered the massive water slides to college parties and smaller waterslides for those backyard birthday parties. Don't forget about the water slide fun jumps and interactive games to go along with!
How to Book my Water Slide Rental
Booking your water slide rentals in Lafayette LA has never been easier. Complete your reservation in a few minutes with just a few clicks on your computer, tablet, or Smartphone. It's easy really, just following the next few steps:


Choose a Water Slide


Click Add to Cart


Fill Out Customer and Event Information


Pay Minimum Deposit Required


Digitally Sign Contract


After you complete your online booking, we will send you a few emails to confirm your water slide rental with us. In the meantime, if you have any questions about your water slide rentals in Lafayette LA, just give us a call or live chat with us on our website.
Frequently Asked Questions When Booking Waterslides in Lafayette LA
Everyone has questions when it comes to them looking to booking a waterslides in Lafayette LA. We have compiled some of the frequently asked questions when our customers are booking a water slide in Lafayette with us to help sort out some of the quick questions. Take a look at the most recent FAQ's:
Q - How long is my rental for the price listed?
A - Our standard rental rate is shown on our website is for up to 12 hours but can last longer even turn into an overnight rental. Any rental longer is subject to Bounce E Bounce approval and reserves to right to decline any overnight rental service based on circumstances.
Q - How many people need to watch the kids?
A - A minimum of one (1) adult over the age of 18 years old is required to supervise the water slide at all times while participants are at play. Each attendant or monitor would be stationed at the entrance and /or exit of each unit.
Q - How much area do you need to set up?
A - Our setup requirements vary depending on the specific water slide. Each unit requires a minimum of 3 feet of space all the way around the unit at all times. Check dimensions on each product page for more details.
Q - How much space do you need to get through to my backyard?
A - Our water slides require a minimum of 36 inches up to 48 inches wide clear pathway to get through any opening or gate. No, we will not bring them through your home or throw them over the fence. Keep in mind, these inflatables are hundreds of pounds.
Q - Do I need to do anything to the setup area prior to the event?
A - The setup area must be free of debris, obstructions or any pet feces. Please cut your grass at least a few days prior to avoid any grass clipping all over the water slide during play. Help us keep the slide and pool clean!
Q - What kind of power source do I need?
A - A standard household 120 volt outlet on a GFCI 20 amp circuit is required for our blower to power the unit. It must be within 100 feet of the setup area and able to maintain constant power to the blower during operation. Some water slides may take up to 2 or 3 blowers and each one requires a separate circuit. Check product page for power requirements.
Q - Are there any delivery fees?
A - We offer free delivery to most areas but travel distances along with labor for our professional delivery crew incur additional deliver fees. Fees vary depending on location from our home office in Lafayette.
Q - Are there any setup fees?
A - We DO NOT have any setup fees associated with your water slide. All of the setup is included in the cost of the standard rental rate at this time.
Q - Do I need to provide water?
A - Yes, the customer is required to provide a hose from the spigot on the property to the setup area to connect to our leader hose for the misting or sprinkler system for the water slide during use. A constant flow of water will be required during use to keep the slide wet for the participants.
Q - Do you have insurance and/or licensed?
A - Bounce E Bounce is fully licensed and insured. We carry well above the minimum required for all parks, schools and playgrounds in the Lafayette area.
Q - Can you deliver to a park or school?
A - Yes, we can deliver to any park or school in Lafayette. We carry all required insurance documentation and are a fully licensed water slide rental company. Check the requirements for renting a water slide at a park or school prior to booking with us.